The art of the pottery
Pedro is coming back ! What happened during all this time ?
Pedro is starting his tourist experiences again, after a short absence (you have to understand, Pedro was so tired after travelling around France to try out all of our accommodations and activities, he had to go on holidays to rest from his holidays)...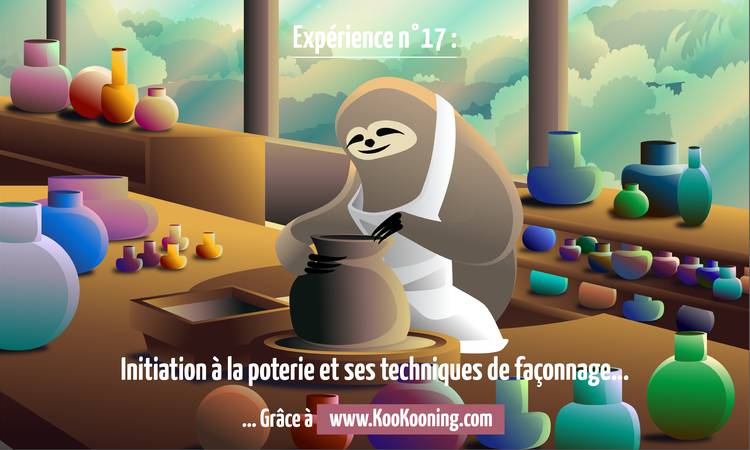 This week, Pedro apparently decided to get in touch with his artistic side. Well, he at least tried to get in touch with it, judging by the final result of his efforts...
Browsing through the thematic offer of KooKooning, Pedro let the appeal of the "Creative Hobbies" section seduce him. At first, he didn't really know what to expect of this thematic. indeed, it covers a lot: from origami to sewing, sculpture, floral art, and more. However, Pedro was quick to decide which had his preference, once he checked all of them out. The pottery won his heart over this time.
On Kookooning, our sloth found an accommodation built inside old pottery workshops, which are the recipient of the long fiery passion of his host. He entirely renovated parts of said workshops, and is now offering his hosts the possibility of learning the ancestral art of the earthenware.
Pedro discovered the fundamentals of pottery thanks to his host : the tools needed, the mixing of the different clays, the modeling techniques, the heating techniques, the finition and decoration techniques, etc.
Among all the new techniques Pedro learned, the clay-turning one is his favorite, even if for now, his efforts usually lead more to undefined blobs rather than well-rounded kitchenware...
With a little practice, Pedro will be growing pots and pans in the blink of an eye at home !
Posted on Feb. 26, 2016.