Saint-Etienne : villa in the city center
Close to St Etienne convention center which was held the seminar Apidae (eg SITRA), a charming stay in the Villa Roassieux for Pedro and Valentina ...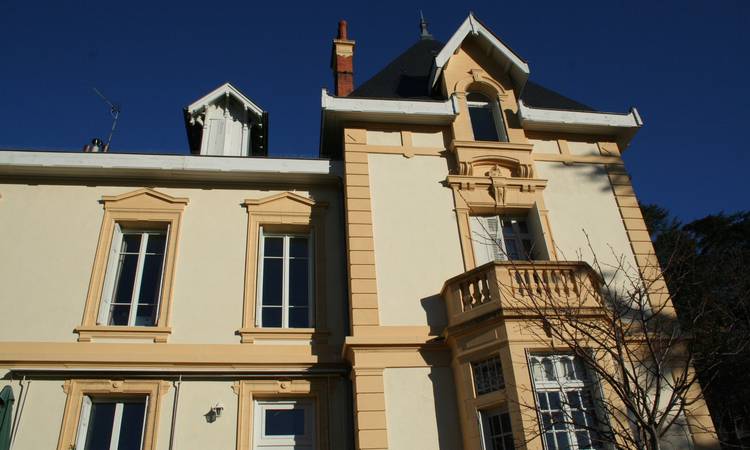 Early November in St Etienne held the seminar of tourism "SITRA" which unveiled its new name on this occasion: Apidae! Pedro, Valentina and a third accomplice were among the guests and speakers ...
Hence the need to find a place where spend the night, at a walking distance from the convention center. Such a strange vision straight out of an animated film, Villa Roassieux and nice terraced garden in the heart of downtown used his powerful magnetism to draw us to her and we reveal unsuspected charms.
Panoramic view of the city when we arrived and the warm welcome from the owner who offers us a guided tour and the album will look on the history of this strange house with many hidden treasures that had to be restored with infinite patience !
On the first pictures it is mainly the amount of work that impresses but with an architect husband and an iron will, the whole family goes to work bravely and in a few years the vast remains a little tired is a beautiful jewel.
Also stay dynamic executives tired of impersonal hotels, foreigners eager to immerse themselves in French culture and leisure travelers in search of authenticity. Beautifully arranged around a monumental staircase, B & Bs tell their story with their antique furniture and a thousand years by small details like these children's books in the library that make us feel at home!
Late evening in perspective? No worries, the owner offers us to go through the back door and not to disturb the other occupants of the house, she set us all three on the same floor. A room each and a shared bathroom. A little place just by us to refine our files safely.
The next morning, not very fresh, let's face it, we descend into the dining room. The table is beautifully drawn, a basket of pastries, breads, butter, jam cups, yogurt, milk jugs, tea, coffee. Something to start the day!
Sated and relaxed, we start walking to the convention center for a busy day in perspective. We'll get the car that night when the conference is over, the owner has indeed offered to leave our car in the parking lot of the property.
Design of the city and home of the "Greens" from Geoffrey Guichard Stadium, St Etienne is also a detour to the Villa Roassieux. Go with confidence, you will surely love this place!
Posted on Dec. 1, 2015.