1. Sign Up is Free
To apply on Kookoon is simple and free. It can even be done from your Facebook or Twitter account.
2. Thematics stays
Whether you are a host or a traveler, your KooKoon profile will allow you to describe yourself and inform your audience on KooKoon your common interests.
In addition, on KooKoon, all rentals, bed and breakfasts and campsites, dormitories are categorized by themes and detailed based on leisure activities available on site or nearby.
The guarantee to find hosts or travelers like you ... for convivial moments and wonderful memories in prospect ...
3. Availability and booking online
Your KooKoon account also gives you access to a very intuitive dashboard that permt you to view and easily manage your reservations and your interaction with other members of the KooKoon community.
Requests for information and reservation and the applicant's profile on KooKoon appear in your KooKoon Inbox. It only remains for you to choose with whom to stay or host.
4. Successful rentals Experiences
To get started on KooKoon as a traveler, visit our "You are traveling".
To get started on KooKoon as a host, see the section "You are hosting".
For any other questions or advice, please feel free to contact KooKoon team.
0. Allez Pedro ! On se réveille !
Pedro, ta mission si tu l'acceptes, est d'aller tester chaque semaine une activité différente proposée par un de nos hôtes (qui proposent tous plus qu'un lit). Alors, prêt pour la semaine prochaine ?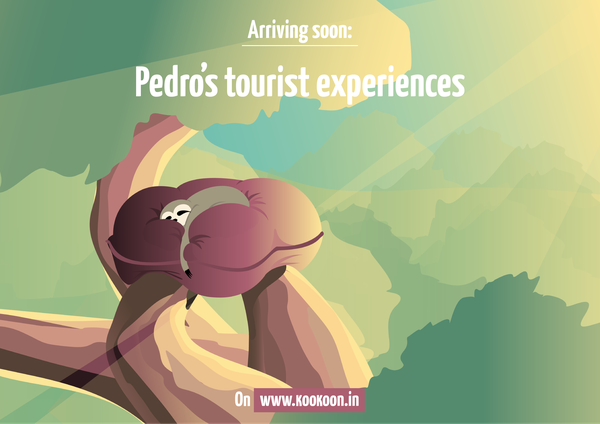 1. Pedro essaie le Tai Chi ...
A priori, on pourrait penser que la douceur des mouvements du Tai Chi pourrait parfaitement convenir à l'énergie d'un paresseux, mais pas tant que ça. Si vous aussi, vous voulez essayer une activité "Bien-être" chez l'habitant, vous êtes au bon endroit !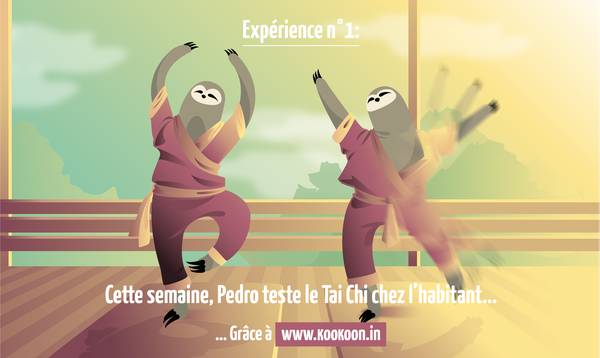 2. Pedro fait du ski !
Trouver un hébergement au pied des pistes, c'est déjà assez génial. Mais trouver un hôte (qui maitrise ses skis) qui vous fait découvrir le domaine, c'est encore mieux. Pedro en a trouvé sur KooKoon et a testé pour vous.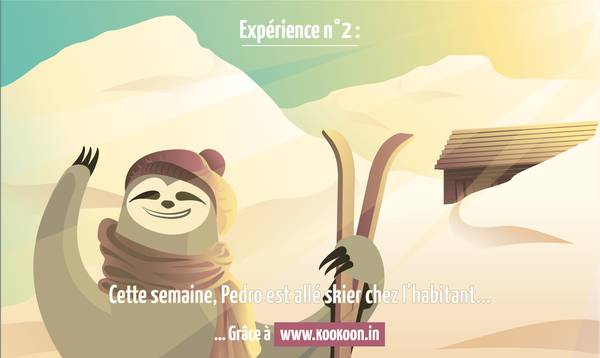 3. Pedro s'envoie en l'air !
Cette semaine, Pedro avait le choix entre plusieurs activité aériennes : baptême de parapente, vol en U.L.M, ... Kite-surf, mais il a choisi un petit tour en montgolfière ... et c'était génial ! Il y a des propriétaires d'hébergement qui proposent des activités incroyables sur KooKoon !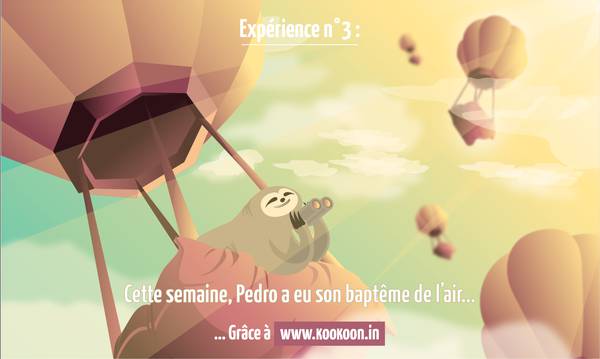 4. Après l'effort (et les sensations), le réconfort !
Après des semaines d'expériences intenses (pour un paressux), c'est l'heure du retour aux sources. Pedro a choisi la thématique "Détente" pour ce nouveau test des activités proposées sur KooKoon. Au programme : relaxation, massage aux pierres chaudes, sieste, ... et bons petits repas.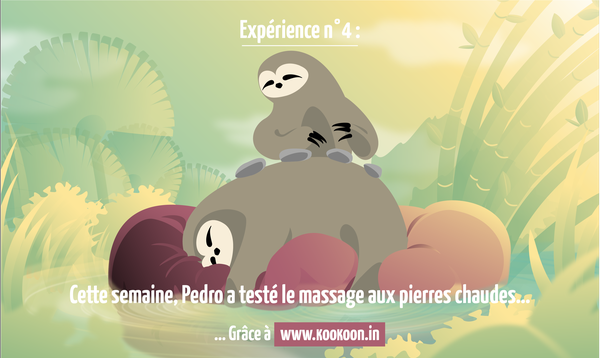 A suivre ...
Si vous aussi, vous souhaitez tester les activités de ceux qui proposent plus qu'un lit, n'hésitez à contacter l'équipe KooKoon.
Vous pouvez aussi nous transmettre vos photos sur les réseaux sociaux Twitter ou FaceBook.